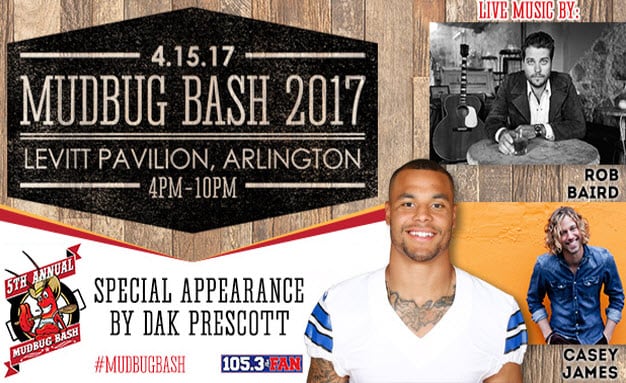 Local radio station 105.3 The Fan is holding their annual Mudbug Bash on Saturday, April 15 at Levitt Pavilion. The famous crawfish festival is now entering its fifth year and will feature everything from exciting activities to celebrity appearances, so don't miss your chance to partake in all of the action!
Guests are welcome to indulge in over 3,500 pounds of sweet and spicy crawfish at this year's outing. In between snacking on tasty mudbugs, attendees will have the opportunity to sip on premium beer and specialty drinks, and try their hand at one of many onsite games. To complete the party atmosphere, the event will also feature live music from the likes of Rob Baird and Casey James. Dallas Cowboys quarterback, and "Rookie of the Year" recipient, Dak Prescott is even scheduled to make an appearance, so be sure to get there early!
The Mudbug Bash is scheduled to take place from 4 p.m. to 10 p.m. and is open to all ages. Tickets for the event are on sale now and can be purchased online.
EVENT DETAILS
Date:
Saturday, April 15, 2017
Location:
Levitt Pavilion – 191 W. Abram St.
Time:
4 p.m. – 10 p.m.
Admission:
General Admission (No Crawfish) - $20
General Admission (2lb of Crawfish) - $35
Child General Admission (age 12 and under) - $10