From the factory, Hyundai vehicles come equipped with a keyless remote system. If you have recently lost your remote or had to buy a new one because it was damaged, you will need to reprogram your system. Not only is your remote responsible for locking and unlocking your doors, but your keyless remote will also be responsible for arming and disarming your alarm system.
What are the Steps for Programming?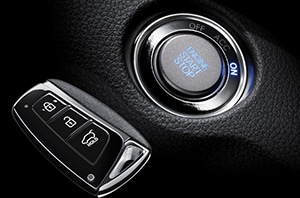 You need to locate the fuse panel that is located underneath the dashboard on the driver's side of the vehicle. The control module for the factory alarm system is located here. Locate the memory switch.


The memory switch will need to be in the 'Off' position. Your Hyundai system will not understand what you are doing unless you are in the programming mode.


Put your key in the ignition and turn it to the 'On' position. After sixty seconds you can move the memory switch to 'Set'.


Press and hold the 'Lock' button on your remote. You will need to hold down the button for sixty seconds. At this time the remote and the module will communicate to each other. They will sync and you can then release the button.


Switch the control module in your vehicle back to the 'Off' position.


Turn the ignition switch off. You can test the remote to make sure that everything is working properly.
If you are in need of a new remote or would like us to program the unit for you, you can contact us at Vandergriff Hyundai. We'll be glad to help you.