Any time that you replace the battery in your Hyundai keyless remote, you will need to reprogram the system to match your car. You'll need to follow several steps to ensure that your Hyundai keyless remote system is programmed correctly. The process is relatively simple, and you'll be able to access all the remote system's critical features once it has been reprogrammed to your car again.
How To Program Your Hyundai Keyless Remote System
The first step to take in reprogramming your Hyundai keyless remote system is entering the vehicle and closing all the doors. Second, use your key to switch on the "ACC" accessory function on the Hyundai's ignition system. Third, you will notice a button on the key fob that says either "unlock" or "open." Hold this button down on the key fob for several seconds. When the programming is complete, a light will start flashing on your car to let you know that the programming was a success.
Opening the Key Fob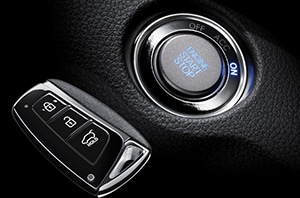 If your key fob needs to be reprogrammed, the most likely cause is a dead battery. Retrieving the battery for replacement is a process that may vary slightly depending on the Hyundai model that you drive, as the key fobs have different designs based on model year. Most key fobs will have an indentation or a notch somewhere along the side that can be easily opened with a screwdriver. After opening the critical fob, look for a circuit board, which exposes the battery when you lift it. The battery will have a specific number that indicates the type of battery your Hyundai's key fob uses. Most key fobs use the battery numbered "CR2032." If the battery needs replacement, let the helpful staff at our dealership know, and they'll help you find a suitable replacement part.
Tips
Keep in mind that the key fob programming instructions will only work if you have a key fob already programmed to a previous Hyundai that you owned. If you are purchasing a new Hyundai, you will need to visit a Hyundai service center to have an expert technician program the key fob to your vehicle instead.
Reprogramming your Hyundai's key fob is relatively simple, but the experts at our dealership are always here to assist if you have questions or need help. Contact us today with your questions about programming the key fob on your Hyundai, and a professional service team member will gladly assist.