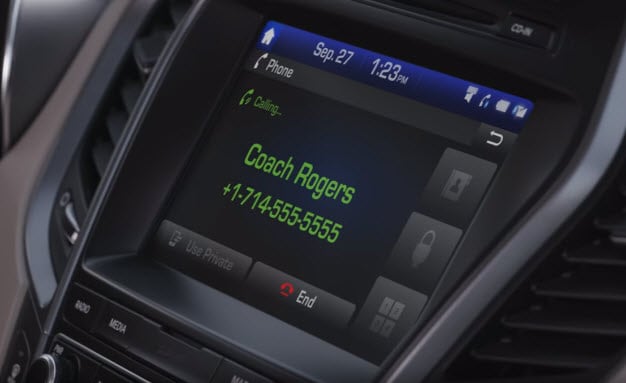 When it comes to spending time on the road, most drivers want to remain productive and have the freedom to make phone calls for business and pleasure. They also enjoy listening to music while behind the wheel. If you want to utilize Voice Command that is included with the technology that comes equipped in Hyundai models, there are a few important tips to follow when making phone calls for easy operation while on the road.
With the use of wireless technology, driving a newer model can allow you to download contacts and make calls while keeping both hands on the wheel and your eyes on the road for increased safety. The technology offers increased safety and reduces the risk of a collision by making it easy to perform voice commands that cause certain actions to be performed without having to press any buttons, which avoids distractions.
?
Set Up the Feature
Voice command will need to be set up to ensure that it can be used. Begin by pressing the voice icon on the steering wheel where voice recognition will begin with voice guidance. Useful call commands include, "Call," "Dial, and "Change Bluetooth Device."
Turn the Car On
Voice Command only works when the engine is operating, which makes it necessary to begin once the vehicle is turned on. Press the Voice Command button, which is located on the steering wheel. You'll then see a list of Voice Command options on the screen of the infotainment system on the dashboard, which includes options like "Music," "Radio," "Sirius XM Channel," "Call John," and "Find Address in California."
Speak the Command
Once your options appear on the screen, you'll need to say, "Call" with the contact's name. Speak clearly at a normal speaking volume and pace to ensure that the computer recognizes the command and can respond correctly. The technology also makes it possible to use the navigation feature or play music while operating the vehicle with additional commands that are performed. Pressing the button on the steering wheel remote controller or saying, "Cancel" or "End" will cancel Voice Command while it's in use without having to take your hands off of the wheel.
If you want to learn more about Voice Command and how it works, we invite you to contact our dealership today to speak to an expert. Our professional team is here to assist you and can help you schedule a test drive.