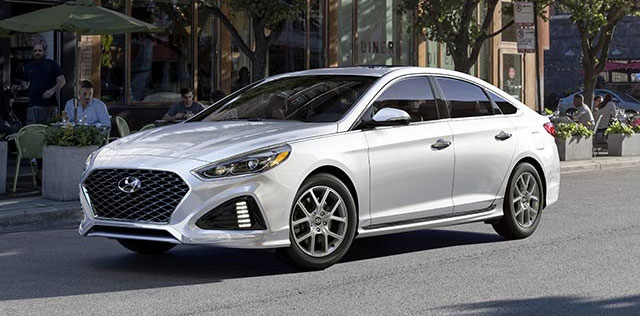 2018 Hyundai
Sonata
Keyless Ignition
✔ Standard
Basic Warranty
✔ 5yr. / 60,000 mi.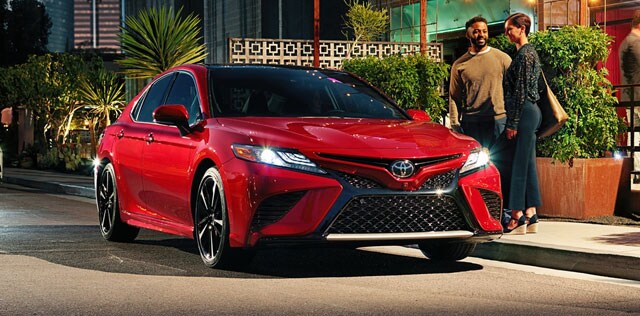 2018 Toyota
Camry
Keyless Ignition
✖ Available on Other Styles
Basic Warranty
✖ 3yr. / 36,000 mi.
Reliability and style are two critical factors that are a priority to consumers as they shop around for a new vehicle, which makes the Hyundai Sonata and the Toyota Camry popular cars. Both vehicles continue to evolve to enhance the driver experience without being unaffordable. The latest models have recently been introduced but differ in a few ways with their new design.
Specs at a Glance
Technology Differences
The 2018 Hyundai Sonata comes equipped with a seven-inch touchscreen with Bluetooth and also features Apple Play and Android Auto to sync your smartphone and have access to your contacts. A three-inch instrument panel is one of the top gadgets that comes standard. Drivers who obtain the Remote package can have access to stolen vehicle recovery, remote start, car finder, and remote lock or unlock for added ease of use.
The new Camry is built with a 10-inch display, which is more challenging to use than some of its rival systems. Unfortunately, the Camry is also conservative with the number of features that come standard in the vehicle compared to the Sonata. Drivers who have the budget can pay more for a navigation system, parking camera and sensors, and high-tech safety features.
Exterior Features
The 2018 Hyundai Sonata has undergone a refresh and now features a cascading grille with narrow headlight and taillights, which causes it to appear more dramatic than some of its previous looks. New wheel designs, front fenders, and LED headlights cause the model to look similar to a luxury vehicle. Those who want even more style can purchase the 2.0T model for its black exterior trim, dark bezel headlights, chrome on the rear diffuser, and a mesh grille. There's an attention to detail with the body that allows it to look sharp and confident.
Toyota boasts that the new Camry has been redesigned, but the style and look of the body are expressive and may be too bold for some drivers. The back of the car looks cluttered and doesn't make the Camry recognizable. LED headlights and taillights are included with a panoramic sunroof and quad exhaust outlets. Those who don't want to take too much of a risk but still want to drive an attractive vehicle may consider the Sonata the better option.
Consumer Ratings
Consumers favor the 2018 Hyundai Sonata and have given it high scores due to its solid list of standard features and excellent interface with its upscale redesign. The spacious interior setting also makes it more of a family car. Hyundai continues to become one of the most reputable brands on the market due to its reliability and trusted performance, making it receive better reviews compared to the Toyota Camry.
The 2018 Toyota Camry continues to be favored by consumers but has received mixed reviews. The model has lower scores than the Sonata because it's the same dimensions as its predecessor and its styling is a departure from its previous models. The rear struts are also bulky, and less room is available in the backseat, which can require that you duck your head when getting into the car. Although it offers large and comfortable seats in the cabin, it is also noisier inside compared to the Sonata and can make it difficult to hear the radio.
If you want to see the 2018 Hyundai Sonata in person and how it compares to the Toyota Camry, contact us to schedule a visit to our dealership. We'll be happy to give you a test drive and show you around our extensive inventory of vehicles.
Question? We Can Help