Vandergriff Hyundai is electrified to be the leading point for the Hyundai Tucson in Texas. Vandergriff Hyundai is a Dallas Hyundai dealership and carries a large inventory of New Hyundai Tucson and top quality, high value used Hyundai Tucsons and other cars & trucks.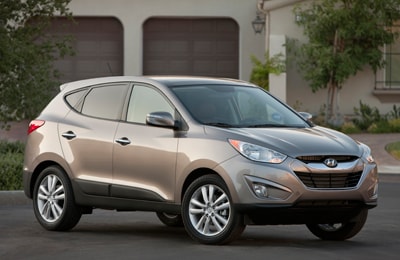 When shoppers compare the Hyundai Tucson to other makes like the Honda CR-V, Toyota RAV4 and Nissan Rogue, the 2011 Hyundai Tucson shines as the most fun-to-drive. Starting with the 2011 Hyundai Tucson, owners found this affordable SUV's crisp handling and lively acceleration to be reason enough to choose.
You'll go for the Hyundai Tucson affordable compact suv when you visit Vandergriff Hyundai in Dallas
The organic, graceful bodywork of the Hyundai Tucson was designed in Europe, and thinks outside of the box. Although it displays design attributes of Hyundai's well-regarded line-up, Tucson's sharply styled fluidic sculpture makes it a standout among the crossover competition. The new front-drive only GL trim level begins at an MSRP of $18,745 and earns the highest efficiency of the Tucson models. The GL carries a 2.0-liter version of Hyundai's Theta II four-cylinder engine that produces a powerful 165 hp and 146 lb/ft of torque, which is impressive for its size. A two-stage Variable Intake System and Dual Continuously Variable Valve Timing are high-technology factors that helping the engine display its muscular prowess. On the engine internals, a diamond-like coating is utilized improve fuel economy and to reduce friction. Despite the extraordinary power output, fuel economy for the Tucson GL with six-speed automatic transmission is listed up to 23 mpg city and 31 mpg highway. A five-speed manual transmission is standard and the automatic features SHIFTRONIC manual control as well. Vandergriff Hyundai in Arlington has the best selection of all new Tucsons in Dallas area, so stop by today.
Tucson GLS and Limited models use the 2.4-liter version of the Theta II four-cylinder. The bigger engine is near the front of the class for power, packing176 hp and 168 lb/ft of torque and up to 22 mpg city and 31 mpg highway. The optional electronic all-wheel drive system for GLS and Limited trim Tucson is an on-demand system that automatically activates to transfer power among all four wheels. A driver-selectable locking function pins the torque split at 50/50 between the rear and front axles, which is most beneficial when facing less than favorable conditions. Downhill Brake Control and Hillstart come standard, which is usually reserved for a higher-end SUV. Downhill Brake Control utilizes the antilock brake system to control speed when traveling downhill, assisting drivers in maintaining control. Hillstart Assist Control helps in preventing rollback on hills for ascents free from anxiety. Safety is a top priority for Tucson, and high-strength steel is in place for crash performance. In addition, Electronic stability control also comes standard. Featuring, side, curtain, and front airbags, the Tucson packs six in total. MacPherson struts insure responsive suspension, and employs up front and a multilink arrangement for the rear axle. Gas-charged shock absorbers and coil springs and are paired with the rear and front bars for a more predictable cornering response. Tucson Limiteds come equipped with Sachs Amplitude Selective Dampers for a supple ride that doesn't inhibit performance. Test drive one today at Vandergriff Hyundai in Arlington.
The 2011 Tucson's interior is spacious for cargo and passengers with 101.9 cubic feet of passenger area and 25.7 cubic feet of cargo room behind the 60/40 folding rear seat that expands to 55.8 cubic feet when they are folded up. Additionally, the Tucson's interior is high quality, uses the latest technology, and is comfortable. The controls in the cabin are simple to use, and laid out well. Standard interior in the Tucson GLS is a leatherette/cloth combination, while Limiteds come loaded with leather seating on the power adjustable, heated seats. A panoramic sunroof is also an option for Tucson Limited owners, can enjoy a plethora of other luxurious features, such as an auto-dimming mirror with Homelink, foglamps, automatic temperature control, automatic headlamp, and 18-inch alloy wheels. The 2011 Hyundai Tucson has kept up with the latest technological trends, including navigation, a rearview camera available, and Bluetooth. Tucsons with navigation come equipped with a 6.5-inch color LCD touch-screen to control the user friendly system, which can also respond to voice prompts. Navigation also comes with a 360-watt sound system including Bluetooth, CD player, and the already standard iPod, USB and auxiliary input jacks.
No matter what trim level, the driver can be assured that the 2011 Hyundai Tucson offers extreme value, even before you consider a higher 36-month residual value than the Honda CR-V, Toyota RAV4 and Nissan Rogue. In the compact crossover market, the Tucson gets it right, with all the best features for long-term value. Vandergriff Hyundai in Arlington, TX proudly offers the Tucson line with all-new Trim Levels and countless options.
The reasons why the Hyundai Tucson will be your desired affordable compact suv in fascinating TX
Vandergriff Hyundai offers the Hyundai Tucson, a 4-door SUV which seats 5 people pleasantly. The Tucson weighs 3,318 pounds, is 173.2 inches long, 71.7 inches wide, 65.2 inches high, and the Hyundai Tucson's turning radius is 17.3 feet. surprisingly ample for its class, the Tucson has 39.4 inches of headroom in the front, as well as 41.2 inches of legroom. In the Tucson's back seat, there are 39.1 inches of headroom and 38.7 inches of legroom. Need to bring a lot of luggage on your next trip? The Tucson trunk holds up to 25.7 cubic feet of your equipment. So, take a breather and enjoy!
Standard Hyundai safety features included in the Tucson are: traction control, anti-lock brakes, side airbags, driver airbags, side-impact bars, seat-belt pre-tensioners, and passenger airbags. With all of these features, the Hyundai Tucson is always terrifically rated by the IIHS and NHTSA.
The Tucson also has an abundance of comfort and convenience features including: power steering, remote locks, power windows, power mirrors, climate control, cruise control, air conditioning, power seats, an adjustable steering wheel, and more! Especially convenient are the available hands-free phone and navigation systems. Test drive the Hyundai Tucson in Dallas at Vandergriff Hyundai.
Like all Hyundai cars & trucks, road handling and performance are top priorities for the Tucson. Passing horsepower in the base Tucson is 165 bhp @ 6200 rpm, and it produces excellent torque - 146 ft lb @ 4600 rpm foot pounds/rpm. The Tucson accelerates rapidly from 0 to 60 mph in just 8.4 seconds. If you want to go fast, the Tucson has a top speed of 112 miles per hour. Despite this excellent power train output, the Hyundai Tucson's fuel economy is rated at 22 miles per gallon in the city and 31 highway miles per gallon. With a fuel tank capacity of 14.5 gallons, the Tucson cruising range is well above average, truly making it a performance car!
The Hyundai manufacturer's warranty covers the Tucson for manufacturing defects and has a 5 Years / 60,000 miles Hyundai warranty. Hyundai has worked for years to minimize its environmental impact, and the Tucson's carbon footprint is rated very low. Not surprisingly, with all of these Tucson advantages, this great Hyundai SUV retains a high percentage of its value at 3 years and 36,000 miles, which makes the Hyundai Tucson a great used buy!
When seeking a safe, economical, sporty and stylish SUV, Arlington shoppers should head to the Hyundai dealer of choice, Vandergriff Hyundai at 1120 I-20 West in Arlington TX.
Hyundai Tucson service information for Dallas
Hyundai Tucson owners and lessees in Dallas have found that Vandergriff Hyundai at 1120 I-20 West in Arlington is the very best choice for Tucson warranty work, regular maintenance & inspections, and mechanical repairs. At Vandergriff Hyundai, Certified Hyundai Technicians trained in the very latest diagnostic and corrective techniques work for only one thing - your complete satisfaction. Whether it's time for your Hyundai to have an oil change or tire rotation, or if you need regular Tucson Scheduled Maintenance, Vandergriff Hyundai is your first choice. Wheel alignments are another specialty of our Certified Hyundai Techs, and here at 1120 I-20 West, we are the smartest choice in Dallas for quick, courteous, and professional Hyundai Service of all kinds.
If you'd like to make an appointment to have your Tucson serviced, click the link or just give us a call. See you soon.