Take a Look Dallas-Ft. Worth Hyundai Shoppers - the Azera has Arrived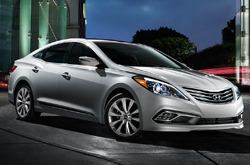 2015 Hyundai Azera reviews proclaim that with the well-matched combination of its sleek body, powerful engine, and a luxurious interior brimming with the latest amenities, the Azera is one of the best all-around buys on the market.
The sleek, sexy exterior of the Azera is a perfect example of Hyundai's "fluidic sculpture" design. The smooth, organic contours and the chiseled beltline running from the jewel-like headlights to the new LED taillights add charisma.
Check out the 2015 Hyundai Azera in Arlington. You will see luxurious features and amenities that are rarely available in other sedans. The cabin is spacious, with comfortable seats for all passengers in the front and rear, and the 14 speaker sound system with eight-inch subwoofer is just outstanding. The optional panoramic sunroof also comes with UV protection to protect occupants and upholstery alike from the ravages of the sun. The cockpit-like seating for the driver with the newly redesigned central control area and the 8" navigational touch screen lend a premium feel.
The 3.3L V6 engine creates an effortless flow of power and surprising fuel efficiency using advancements that include Gasoline Direct Injection (GDI) and Dual Continuously Variable Valve Timing (D-CVVT). This sturdy engine is coupled with an outstanding six-speed automatic transmission that makes skillful use of that well-engineered V-6 power.
Hyundai has built a reputation for safety and it is evident in the bounty of occupant protection and crash avoidance technology incorporated into the Azera's design. At the heart of this suite of features is its vehicle stability management (VSM). The VSM manages several important features including electronic stability control, traction control system, anti-lock braking system, electronic brake force redistribution system and brake assist to help you avoid a collision, stay on course or drive more safely in bad weather. Of course, a nine-airbag system is also in place to protect all occupants.
Premium car buyers have high expectations. 2015 Hyundai Azera reviews say the Azera delivers on the power, comfort and handling that discerning buyers value most. You can see the 2015 Hyundai Azera in Arlington at Vandergriff Hyundai.