Check out tips below regarding when to change your car's brake pads, rotor discs and brake fluid. Our brake shop in Arlington is open to drivers all over the DFW area. Schedule your next brake repair or order OEM Hyundai brakes with us today. Also view specials to see if we have any current Hyundai brake service coupons available online.
How long do brake pads last?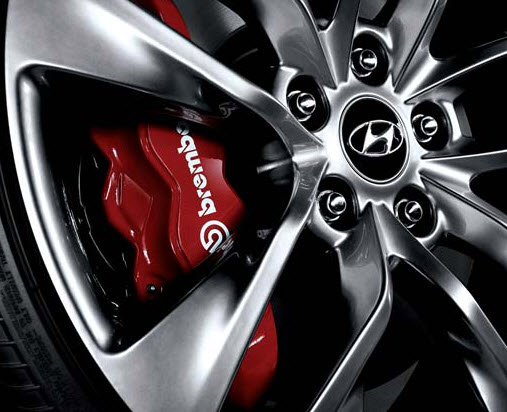 This varies greatly based on driving style and driving conditions. For example, if you frequently encounter traffic, tow often or come to hard stops, your brake pads are likely going to wear faster. It's a must to have brake pads checked annually in order to stay apprised of how fast they're wearing down. And generally, if your brake pads get to 3mm or 2.5mm, we recommend not waiting to change them, or you could jeopardize your rotor discs.
In addition, a high-pitched screech is one of the most common signs that a car's brake pads will soon need replacement. The sound is produced when a part called the brake wear indicator is triggered. If your car is due for new rear or front brake pads, visit us for brake change service in the Dallas-Fort Worth area.
OEM Hyundai Brake Pads vs. Aftermarket Brakes

The saying you get what you pay for applies to brake pads. While there are some cheap aftermarket brake pads out there, paying a little extra for quality is safer in the long run. Many sources show that aftermarket pads are prone to rust and wear down earlier than OEM Hyundai brake pads; not to mention that OEM products are built to the exact specs of your car, so you can expect an exact fit during installation.
How often do I need a brake fluid flush?
Again, this varies a lot based on several factors, but for many drivers it ranges from every two to three years. Like brake pads, you should have your brake fluid checked annually to keep an eye on its condition. Since brake fluid is hydroscopic, it absorbs moisture that breaks down its properties, and thus its effectiveness, over time. If you want to prevent brake rust and other issues, it's important to get a brake fluid flush in DFW when recommended by your mechanic.
Brake Fluid Is Key to Helping Cars Come to a Stop

Brake fluid is not only a lubricant. It's actually what provides the pressure that brings brake components together. It literally works to move parts where they need to go in order to bring a vehicle to a stop. This is one of the primary reasons why it's so important to maintain.

Furthermore, when brake fluid collects too much moisture, it reaches a boiling point faster, which can potentially cause vaporizing in the system, possibility leading to brake failure.
When do brake rotors need to be replaced?
There are several signs which indicate problems with rotor discs. Vibration and pulling are common when brake rotors are warped, while a grinding noise indicates that the rotors are being scored.
Grinding in particular is highly dangerous. When brake pads wear too thin, it can cause the rotors and caliper to scrape against each other. Since both parts are metallic, a lot of heat is produced, which can lead to a substantially diminished response from the brakes - a state known as fading. Grinding can also cause the brakes to lock up, which is highly dangerous.
Brake Change Service Near Me
If you're looking for well-rated service, visit our brake shop in Arlington, Texas. Hyundai brake service is our specialty and we have all of the OEM products to properly perform any service you need, from brake fluid flushes to rotor and front brake pad replacement.
If you need OEM Hyundai Sonata, Elantra, Santa Fe or Accent brake pads, our mechanics can assist you with brake change service; or if you're looking for parts, please call or make an order online with us today.